The smart solution to warehouse sweeping
Smart-Sweep is clever mechanical sweeper which can effortlessly be coupled together with an existing Forklift to sweep warehouses and yard. A simple, practical, cost effective solution to sweeping industrial area's.
SmartSweep-Vantage:
No hydraulic/electric connections
Easily attaches to any existing Forklift in less than a 1 minute
Designed for indoor and outdoor use
1.5m Sweep Path, 0.4m³/400L Hopper Capacity
Superior dust suppression thanks to the vacuum generated mechanically and the installed filter
The brushes are mechanically driven by the wheels
High dump, can easily be emptied over a skip
High storage, can easily be stored within shelving
Very manoeuvrable, small turning circle for sweep width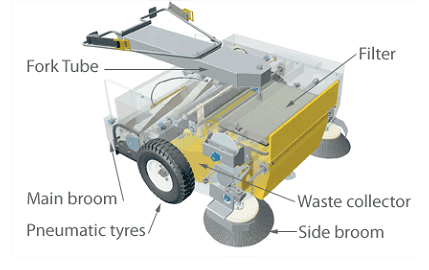 More questions? Want to arrange a demonstration?